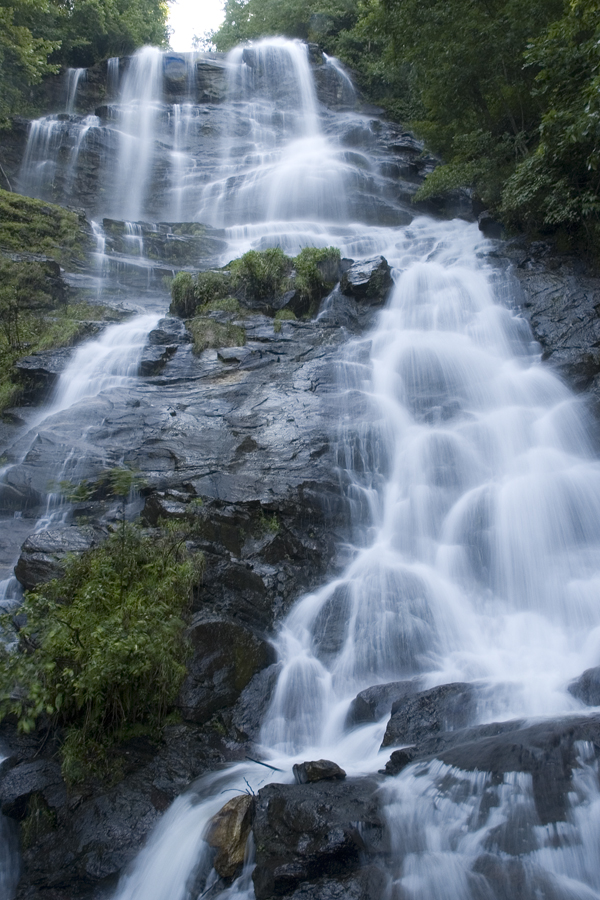 Friday night, 9/14/12.

I can still remember when Friday nights meant early "happy hour" and late nights out dancing and having fun in bars and parties.

Well, I now have a different type of happy hour!
On this day I got out of work early and headed up to the mountains for a weekend of camping, running, more camping, fun with family, more running and some hiking.
I arrived at Amicalola Falls State Park at around 4pm Friday afternoon.

I was thinking about doing a night run but the thought of being out there all alone, without any protection except my severely atrophied arms against the bears and other wildlife, made me decide to get it done early.

I do a lot of my running alone, but it is normally in parks where I see a lot of other people.

Not this day/evening!
Started my run at about 5pm.

The plan was to run 1 hour out, or get to Hike Inn (about a 5 mile run), whichever came first, and turn around.

This was a new trail for me (starts the same as last week's "approach trail" to the start of the AT) and I was excited about new terrain and sites!
The trail was very nice and non-technical (by North Georgia Mountain standards) and I felt great right from the start (unique for me cause it normally takes me about an hour to warm up and feel good).

Mentally/spiritually I had some anxiety and distracted thinking on the drive up so I had decided to do my daily "running rosary" in the car before I got to my campsite.

This really is a gift from God (and my friend who introduced me to it: Chris "M")!

It calmed me right down and put me in a good frame of mind for the weekend.
Anyway, back to the run.

I was a bit paranoid running by myself and I had not purchased a "bear bell" that was suggested by friends who run up here all the time.

Basically you don't want to ever surprise a bear, and the bell warns them that you are coming so they can get off the trail and not decide to eat you.
I was constantly looking and praying I wouldn't come around a corner and surprise a big Momma Bear or Daddy Bear!

I decided to play music in my i-phone so the bears could hear me coming --- hoping they dislike Christian Rock and would run away from the sound!

This worked well to alleviate some of my nervousness.

However, the music was on satellite radio that would come and go unexpectedly. It would shut off for a while and then come on, loud, with no warning – almost jumped off the trail a couple of times.

Definitely kept me awake and alert.
I was very surprised to see 1 hour on my watch and I was not quite at Hike Inn yet.

I really thought I would reach it in under an hour, however, it turns out the first 2 miles of this trail are almost all uphill which slowed me considerably.

So I got to mile marker 4.3 and turned around.
The run back was FANTASTIC.

My legs felt strong and injury free.

Hydration and nutrition was spot-on and I made it back in just under 55 minutes!
So, here is the coolest thing about this run.

I ran 2 hours and did not see one other human being!

At one point I stopped where there was a break in the trees to snap a picture of a beautiful view and it was so cool to hear NOTHING except the sounds of nature.

You could hear all the crickets and animals and the wind whistling through the trees.

At one point after this I had a mental conversation / prayer session with my Dad (gone 20 years this past May 3rd) and I feel like he really spoke to me.

He told me he was at peace and proud of me.

Brought me to tears, for sure.

This was really an amazing, unexpected run.
I got back at about 7pm and had about an hour of daylight to set up camp and make dinner (I also wrote this chapter, in pen, man that hurt – hand not used to writing).

I took a hot shower (obviously this was not primitive camping) and chilled by the fire with a nice, cold adult beverage.
One of the amazing things about running alone and then camping alone is how much time slows down.

You have no agenda and no one asking you to do things or be somewhere.

There is no rush.

There is no where to be at a certain time.

I actually had a moment where I just stared at a butterfly for almost a minute, just appreciating the moment and the beauty of God's nature.

When does this EVER happen in our noisy, hectic lives?

As I have said many times, we all find our way to these peaceful moments – mine just happens to be during and after runs in nature.
Saturday morning, Troy "B", my pacer for the final 31 miles of my upcoming 100 mile suffer-fest, met me to run the "meat grinder" again (did it the weekend previously).

Nothing particular stood out, except that I did not feel very strong for the first 2 hours and felt AMAZING for the last 2 hours.

The family was meeting me after this run to have a nice day, hiking, relaxing, etc. and then my daughter was going to camp with me Saturday night.

We had a great time, it is so nice to be able to hike with Heather again (she just had a hip replacement and is doing great) and the kids did great.

At one point they both took off down hill and beat us back to the start by over 5 minutes….trail runners in training!
Had a wonderful, non-rushed and peaceful weekend.

Some great alone time, time with a friend, family time and then alone time with my daughter.
PS – you will notice no references to the infamous Tim "M" from last week's blog.

He did not run with me, and is actually not speaking to me anymore.

Joke (on the not speaking to me part).

He did say that my "blog ratings" would be way down this week without him in it!